Application
Coal briquette press is a kind of forming equipment to process kinds of coal powders and dust into solid blocks(we call briquettes), which can be used in power plant, heating industry, energy field, metallurgical industry, transportation field, etc. The blocks/briquettes produced by
coal briquette machines
are environmental and energy-efficient, and also are convenient for transportation and reloading, and therefore the utilization of wasted powder materials are increased highly for end users.
Coal briquette press can process various kinds of materials, like coal powders/dust, lignite(wood coal) powders, gangue, fine coke, carbon black, fly ash, peat, semi-coke, etc into solid briquettes with high density. It is an advanced environmental friendly equipment in 21st century.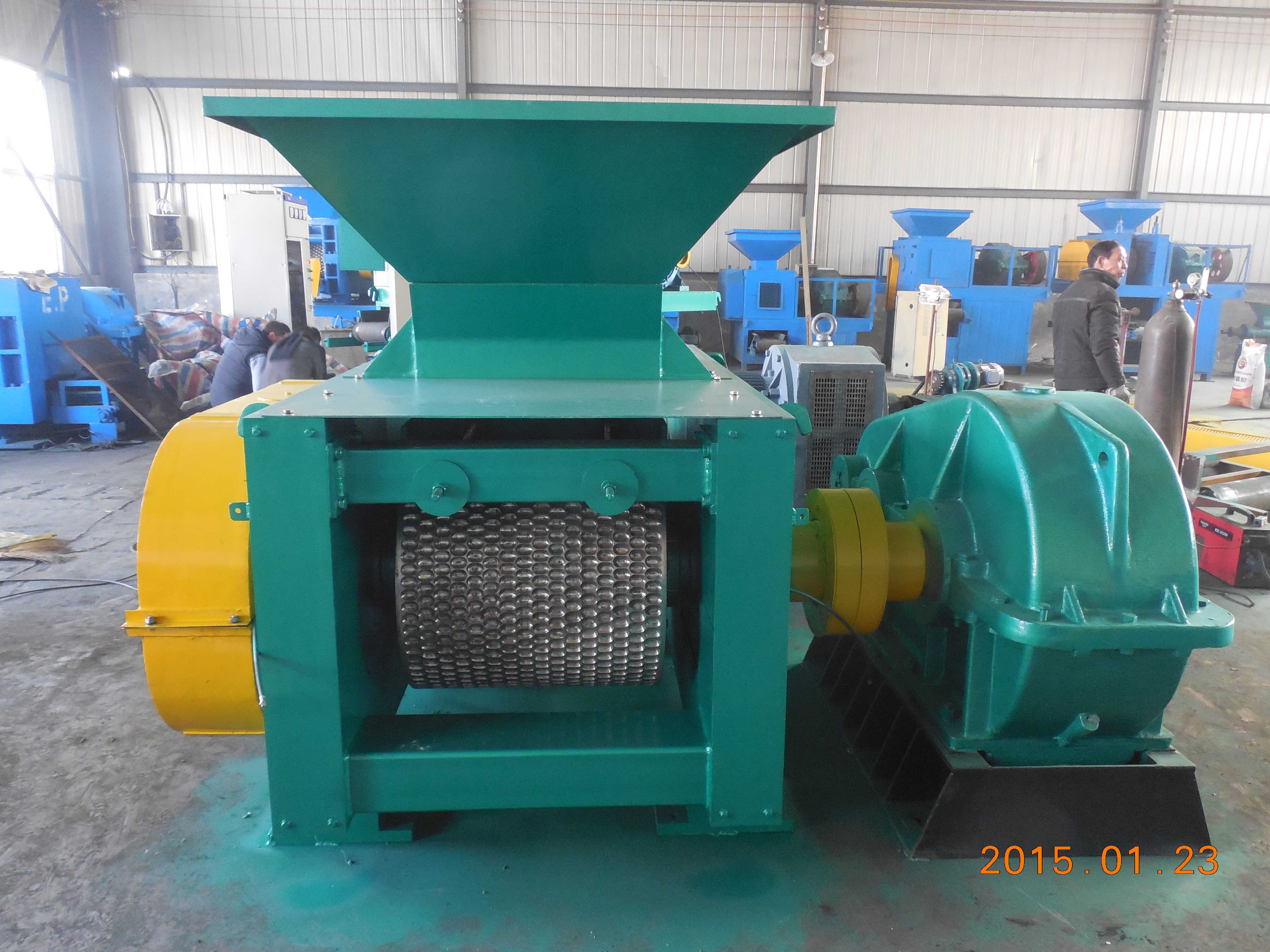 Working principle
The electric motor supplies the power to drive the driving shaft to rotate through the belt pulley and coupling. At the same time, the driven shaft also rotates against the driving shaft by the gear wheels. The rollers, which are set in the driving and driven shafts rotate synchronously. When the coal materials are fed into the machine and fall down to the place between the two rollers, all the coal powders will be forced into briquettes between the two squeezing rollers with the high pressure, which generates from the two rollers. While each two holes from the two rollers tough each other the pressure will reach to the peak value. As the two holes separate and the pressure becomes less to zero. When the pressure comes to zero, the briquettes will fall down and be discharged from the machine.
Frame: There are four main parts, feeding part, transmission part, forming part and discharging part.
Technical parameters & Models
| | | | | | | | | |
| --- | --- | --- | --- | --- | --- | --- | --- | --- |
| Model | Power | Roller diameter | Roller width | Speed | Line(specific) pressing force | Total pressing force | Weight | Dimension |
| HSYQH-750*370 | 55 kw, 380V 50HZ 3Phase | 750 mm | 370 mm | 13 rpm | 4.05 Ton/CM (40.5 KN/CM) | 150 Tons | 14000kg | 3*2.5*2.6m |
Finished briquettes
The briquettes can be oval, goose egg, square, bread, pillow shapes, etc. We also can make the special shape holes according to customers' needs. The sizes of briquettes are 30mm, 40mm, 50mm. For special sizes, that can be customized.