Description: Steel
Mesh belt dryer is one popular high efficient drying equipment, which is widely used in coal field, Metallurgical Industry, chemical field, etc. The steel mesh belt dryer has heating part, transmission part and dust-collecting part. The heating part includes furnace and pipes. (Users prepare the furnace by themselves ). The furnace supply heat through the pipes to the furnace body. The transmission part includes mesh belt and frame, the briquettes will be transported from the beginning of the top level to the next level, and finally to the end of the bottom level. The transmission speed can be adjusted by users' needs. In the body of dryer, we adopt the steel net belt to transfer the briquettes with the required speed, the transmission device will drive the steel net belt to move from the first level to the second level and the third level. During this moving period, the hot air will flow through the drying body and touch and mix with the briquettes completely, meanwhile, the steam will be exhausted from the wet vent, thus, the briquettes moisture can become dry and we get the drying function through the drying machine. The dust-collecting system includes fan, pipes and cyclone.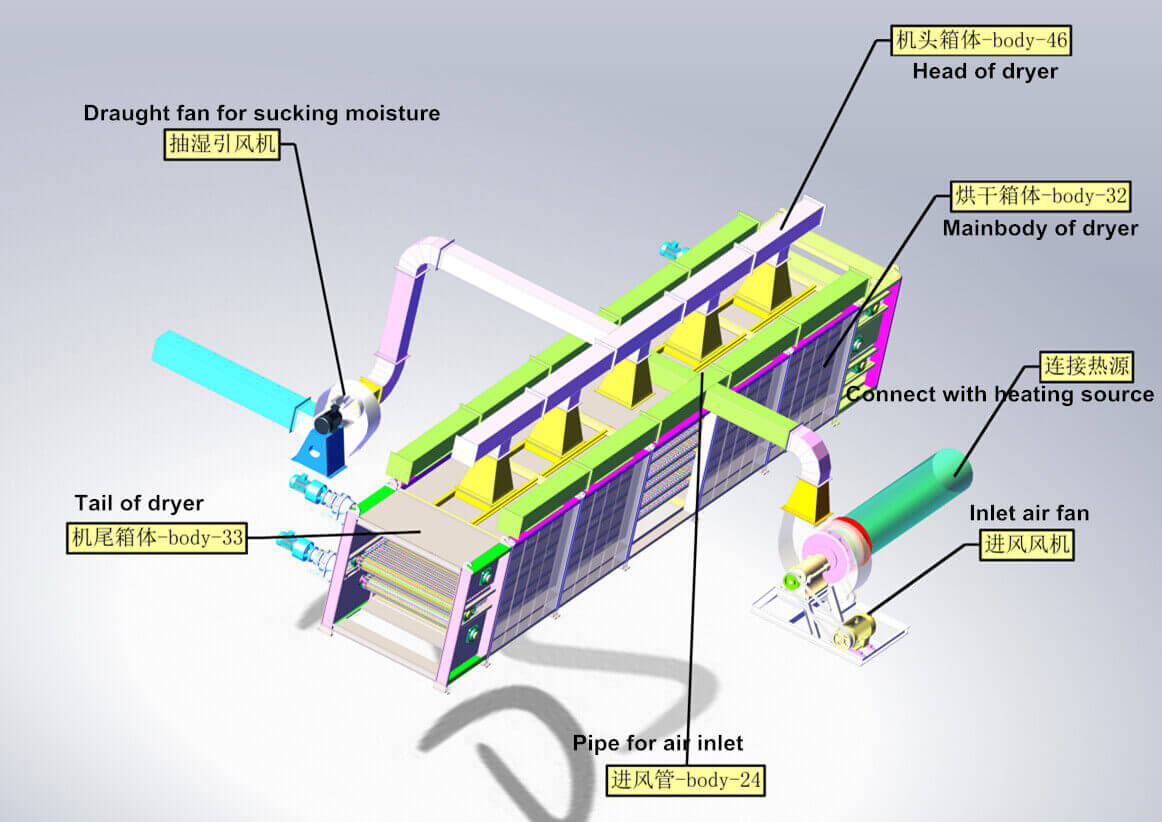 Function:
The briquettes will be put on the mesh belt by the conveyor evenly and continuously. on the mesh belt, there are some heating units to supply the hot air around the box body to dry the briquettes. During the transportation in the dryer body, the briquettes humidity will be released to the lower ratio.
Features:
1. The heating efficiency is much higher than rotary drum type dryer
machine. It can dry all the briquettes each piece evenly. Because each briquettes are spread evenly one by one on the mesh belt, but the drum type dryer just dry the batch briquettes. Further more, the hot air will be recycled through the drying body, it saves much energy.
2.The heating source can be fully used. The heating source are floating in the body of the drying body completely, so all the hot air can be fully used very well. It will not lose any heating source.
3. Breakage ratios is lower. As you are told that each briquettes are spread on the mesh belt. So it ensure that the briquettes will keep entire, and the users can get good finished briquettes finally. It increases the finished products ratio significantly.
4. The drying time is longer. While drying, the briquettes will be transferred from the first level to the third level, there are total three layers (we can make it longer according to users' needs), so the drying time will be expanded to longer time by times, therefore, the drying efficiency is much better.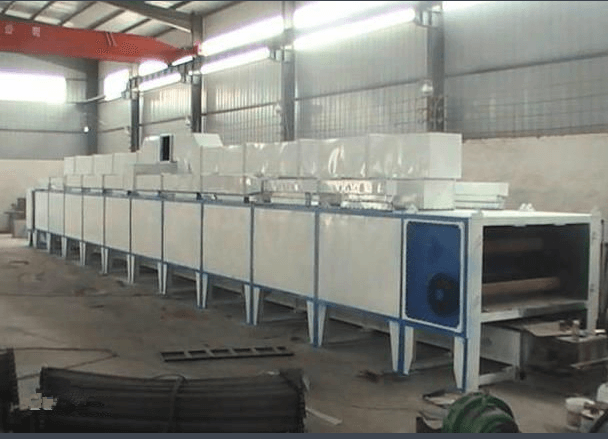 | | | | | | | | | | |
| --- | --- | --- | --- | --- | --- | --- | --- | --- | --- |
| Model | Capacity | Heating source | Transmission motor power | Fan motor power | Levels | Overall Length | Width | Height | Weight |
| HSHGLS-10 | 4t/h | firewood, coal, wood branches such kind materials can be easily available with lowest cost, even for free. | 3 kw*2 pcs=6 kw, 380V,50 HZ, 3 Phase. | 18.5 kw, 380V,50 HZ, 3 Phase. | 2 levels of mesh net belt | 10 meters | 1 meter | 1.7 meters | 8 tons |
| | | | | | | | | | |
| --- | --- | --- | --- | --- | --- | --- | --- | --- | --- |
| Model | Capacity | Heating source | Transmission motor power | Fan motor power | Levels | Overall Length | Width | Height | Weight |
| HSHGLS-12 | 6 t/h | firewood, coal, wood branches such kind materials can be easily available with lowest cost, even for free. | 3 kw*3 pcs=9 kw, 380V,50 HZ, 3 Phase. | 18.5 kw, 380V,50 HZ, 3 Phase. | 3 levels of mesh net belt | 12 meters | 1.5 meters | 2 meters | 10 tons |
| | | | | | | | | |
| --- | --- | --- | --- | --- | --- | --- | --- | --- |
| Model | Capacity | Length of dryer is 15M, Width of dryer | Transmission motor | Fan power | Layer | Belt | Heating source | Weight |
| HSHGLS-15x1.8 | 10t/h | 1.8M, Width of steel mesh belt: 1.5M | 4 kwx3=12kw | 22kw | 3 layers | Heat resistance metal net belt | furnace(built by client-self) | 15 tons |